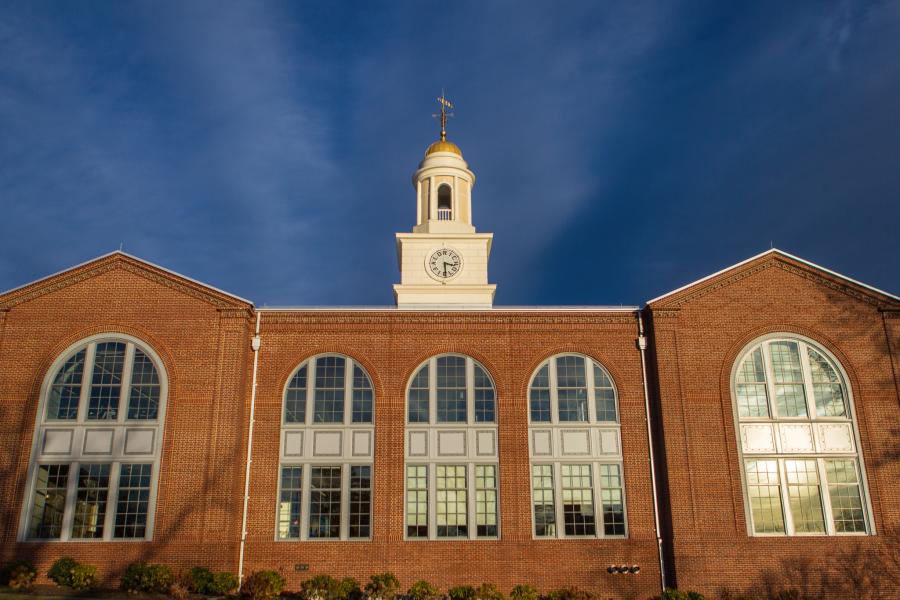 "The shimmering gold leafed dome and four clocks, which substituted ALDRICH FIELD for the usual numbers, served as a constant reminder of the importance of the Aldrich name to Brown athletics…"
–Peter Mackie '59, Sports Archivist, Edward North Robinson 1896 Collection of Brown Athletics, on the Marvel Gymnasium cupola. The Aldrich brothers were significant donors to Brown athletic facilities.
For years, Brown had sports fields and facilities scattered around College Hill, with many concentrated over a mile from campus near Brown Stadium. With the opening of the new energy-efficient aquatics and fitness building in 2012, the athletic complex at Hope Street and Llyod Avenue ringing the new Ittleson Quadrangle was complete. The 39-acre area now features the new additions of the Katherine Moran Coleman Aquatics Center, the Nelson Fitness Center and the David J. Zucconi '55 Varsity Strength and Conditioning Center along with the George V. Meehan Auditorium, Olney-Margolies Athletic Center (OMAC), Paul Bailey Pizzitola Memorial Sports Center and a number of outdoor playing fields. To finish off the new athletics complex, the cupola of the former Marvel Gymnasium was placed atop the Nelson Fitness Center in 2012 and a new bronze bear statue, Indomitable, was installed on the quad in 2013.